Welcome to -Jaya Trekker
Rinjani Volcano
Trekking Services
Tetebatu – Sembalun Rinjani Trekking Mountain GuideS
Jaya Trekker a Licensed Tour and Travel company offers a Lombok volcano trekking package to climb the mountain start Tetebatu, Timbanuh, Sembalun, Senaru, Torean village, and tour guide Lombok island also run nice accommodation in Tetebatu village with the best service and reasonable prices.
Lombok Volcano Overview
Mount Rinjani is an Active volcano in Indonesia on the island of Lombok. Administratively the mountain is in the Regency of North Lombok, West Nusa Tenggara (Indonesian: Nusa Tenggara Barat, NTB). It rises to 3,726 meters (12,224 ft), making it the second-highest volcano in Indonesia.
On the top of the volcano is a 6-by-8.5-kilometer (3.7 by 5.3 mi) caldera, which is filled partially by the crater lake known as Segara Anak or Anak Laut (Child of the Sea), due to the color of its water, as blue as the sea. This lake is approximately 2,000 meters (6,600 ft) above sea level and is estimated to be about 200 meters (660 ft) deep; the caldera also contains hot springs.
Sasak tribe and Hindu people assume the lake and the mount are sacred and some religious activities are occasionally done in the two areas. On 27 September 2016 14:45, WITA Rinjani erupted. UNESCO has made Mount Rinjani Caldera a part of the Global Geoparks Network in April 2018
Lombok Volcano Trekking Packages
After the earthquake last July 2018 mount Rinjani open only for 2 days 1 night to crater rim Tetebatu, 2nd summit Rinjani via Timbanuh, crater Rim Aik Berik and Crater rim Senaru, while the trek to summit and lake closed due the landslides.
The Rinjani Trekking package for beginners to experienced climbers from 2 days to 4 days and starting at Tetebatu, Timbanuh, Sembalun, and Senaru with complete facilities: transportation, hotel one night before climbing, foods, and drinks, camping equipment, guide and porter, entrance ticket Mount Rinjani National park, insurance and more.
Trekking Route Open 2021
The trekking route starts Sembalun, Tetebatu, Timbanuh, Senaru, Torean and Aik Berik to Rinjani open for visitor.
2D-1N Mountain Sangkareang
Trekking to Mount Sangkareang 3.200 MASL (2nd summit in Lombok) Start Tetebatu village open for visitors and recomended by SAM KOLDER ( YOUTUBER ) … read more
2D-1N 2nd Summit Rinjani
Timbanuh Trekking to climb Mount Rinjani starts at Timbanuh at 950 meters altitude to crater rim 2.800 meters and in the next day return to Timba Nuh and drop to Tetebatu. Read More
2D-1N Crater Rim Senaru
Hiking and trekking to the Crater rim Senaru for 2 days 1-night package start from Senaru village to the crater rim and overnight in a tent, next day down to Senaru village. Read More
Trekking Mount Rinjani Start Sembalun
Climbing to Mount Rinjani summit and lake open for visitors on April 2021
2D-1N Trekking Summit Rinjani
Rinjani trekking 2 days 1 night to summit of Mountain 3,726 meters above sea level start from Sembalun village at morning to crater rim Sembalun and overnight. Read More
3D-2N Trekking Summit and Lake
Rinjani trekking 3 days 2 nights to climb Mountain start from Sembalun to crater rim Sembalun and overnight, in the morning at the second-day climb to the summit. Read More
4D-3N Trekking Summit and Lake
Lombok Volcano Trekking 4 days 3 nights Summit and Lake Segara Anak starting from Sembalun to the crater rim Sembalun, summit, Lake and descend to Senaru. Read More
5D-4N Trekking Rinjani Start Sembalun Finish Torean (Open Trip)
The Lombok Volcano Trekking Package for 5 days 4 nights will take you to the Rinjani Peak and Segara Anak Lake and finish at Torean village (the new official trek route). This package is one of the climbing packages that are much in demand by both domestic and foreign tourists.
Open Trip trekking package that can be a solution for those of you who are alone or who want to get cheaper costs to climb Mount Rinjani in Lombok, West Nusa Tenggara, Indonesia. Read More Book Now
Camping and Tour Lombok
Tour and camping in the best attraction within Lombok island
Family Hiking To Gunung Kukus
Hiking program for families to Gunung Kukus or Kukus hill located near Tetebatu village, East Lombok with a height of 1,100m above sea level suitable for children minimum 5 years old. Read More
Camping-Snorkeling Gili Kondo
Escape to the undiscovered Gili Kondo off the Eastern coast of Lombok. This island paradise keeps few inhabitants, yet offers pristine beaches, peaceful campsites, and real swimming. Read More Book Now!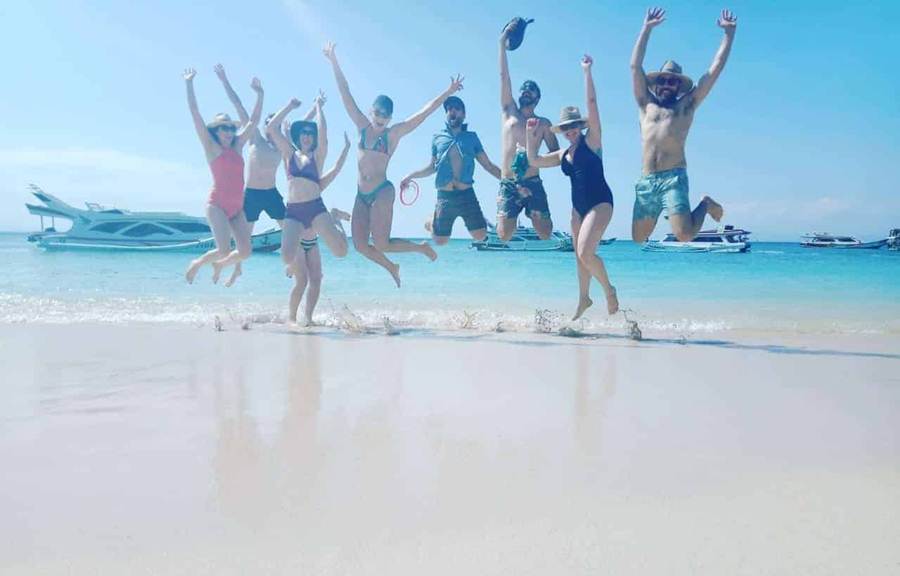 Pink Beach East Lombok Tour
The program is a One day trip to Pink beach East Lombok start from Tetebatu to Loyok village the place of bamboo handicrafts and pottery, to Tanjung Luar, and by boat to Pink Beach Lombok. Read More
Most Choice Tour Package
Pergasingan Hill Sunrise Trip Sembalun Lombok
Pergasingan hill sunrise trip is one of the most famous Lombok attractions, offers the beauty of sunrise and sunset with the luxury hills around the Semblaun village with the color of rice carpet and the beautiful panorama of mount Rinjani, will be seen from Pergasingan hill.
In this soft trekking program, you will be guided by our local expert who will guide you and explain to you about the unique local lifestyle in Sembalun Village ( Trekking Center ). These are the best vacation activities we provided for you instead to climb Mt. Rinjani because of your short traveling to Lombok.
From Pergasingan hill you will see the beautiful night stars, the amazing lights from Sembalun village, the stunning sunrise seen from the east side of Pergasingan hill, and the wonderful mount Rinjani you will see along the way of your trekking.
Pergasingan hill is located on the northeast of Mount Rinjani which is 1710m above sea level that you can hike for 3hrs up and 2,5hrs down. You may have a longer program if you wish to experience one night in the tent and enjoy the wonderful night stars and a warm campfire. In this trekking program, our guide will serve you hot coffee or tea and a light breakfast with some fruits. Continue Reading
New Tour Packages
Our Client Reviews
Get Quotes
Whether you're searching and needs for Mount Rinjani Trekking tour, guiding service, transportation, tour prices, or something more specific, take a look around our website and contact us for detailed information