Main Content
WELCOME TO MOUNT RINJANI WEBSITE
Jaya Trekker offering tour guide Lombok island, Mount Rinjani trekking package service to climb Mount Rinjani via Tetebatu, Timbanuh, Sembalun and Senaru and run nice accommodation in Tetebatu with best service and reasonable prices.
Mount Rinjani Trekking Tour Guide Tetebatu Lombok
About Jaya Trekker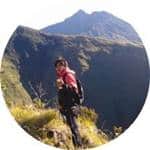 Jaya Trekker website has everything you need to know about Climbing Rinjani mountain and the No.1 Tour guide Agency in Tetebatu Lombok.
So if you want to trekking Mount Rinjani start Tetebatu, Sembalun or Senaru you're in the right place.
Keep Reading Or…
Don't have time to read the whole package right now? No worries. Let me send you all package we offers so you can read it when it's convenient for you. Just let me know where to send it.
Trekking Rinjani Start Tetebatu and Timbanuh
This is the best option for the people who want to climb the Rinjani mountain and escape from the crowded hiker at Senaru or Sembalun routes and explore the natures of the Mount Rinjani National Park.
2D-1N Hiking Rinjani To Crater Rim Tetebatu
The best trip to Mount Rinjani for all family member is hiking to Crater rim Tetebatu 2 days 1 night start via Tetebatu village in the morning to crater rim Tetebatu for 7 hours normal walk, stay overnight in tent and next day return to Tetebatu village. This package suitable for all people. Tetebatu Hill or crater rim Tetebatu is in Mount Rinjani National Park area at an altitude of 2,640 meters above sea level is located in -8.453353, 116.410269 including in … Continue Reading »
2D-1N Hiking Rinjani To 2nd Summit
Tetebatu Rinjani Trekking to climb Mount Rinjani from Timbanuh at 950 meters above sea level to crater rim 2.800 meter and in the next day back to Timba Nuh and Tetebatu. Day 1 : 7.00 am start of the national park in Timbanuh through the forest … Read More »
3D-2N Hiking Rinjani To 2nd Summit – Lake
Trekking Rinjani via Timbanuh / Tetebatu 3 days 2 nights start Timbanuh village on 900 meter above sea level to crater rim Timbanuh on 2.650 meter and camp overnight. Next day early in the morning start climb to 2nd summit or south summit of Mt … Read More »
Trekking Rinjani Start Sembalun
Doing a hike Mount Rinjani via Sembalun village will reach the summit of Rinjani early on the second morning, when they still have relatively fresh legs.
2D-1N Trekking Rinjani Summit
Rinjani trekking 2 days 1 night to summit of Mount Rinjani 3,726 meters above sea level start from sembalun at morning to crater rim Sembalun and over night here. Early morning trekking … Continue Reading »
3D-2N Trek Rinjani Summit-Lake
Mount Rinjani trek 3 days 2 nights to climb Mount Rinjani start from Sembalun to crater rim Sembalun and overnight, in the morning at the second day climb to summit of Mount Rinjani at 3,726 meters above … Continue Reading »
Hiking Mt Rinjani Start Senaru
Senaru route is recommended for 2 days crater rim Senaru and 3 days Segara Anak lake trip for beginner hiker and 4 days 3 nights summit for experienced hiker.
2D-1N Hiking Crater Rim Senaru
Rinjani Trekking Package to Crater rim 2 days 1 night package start from Senaru village to the crater rim, and return to Senaru village at the next day. This program is suitable for beginner climbers … Continue Reading »
3D-2N Hiking Segara Anak Lake
Trekking Rinjani to Crater rim Senaru and Segara Anak Lake 3 days 2 nights package start from Senaru village to the crater rim Senaru, Segara Anak Lake and return to Senaru village. Itinerary … Continue Reading »
Mount Rinjani Trekking Information
Best time to climb Rinjani
The best mount Rinjani hike during the April-November dry season. The trekking trails are generally closed during the rainy season January to last of March.
In recent years the early months of the 'dry season' have become more prone to rain and you should be prepared to encounter heavy rain and low visibility with slippery tracks underfoot at any time, particularly in the afternoon.
Costs and Tour Operators
Unfortunately Rinjani Trekking prices and cost to climb Mount Rinjani are not cheap between 125$ to 350$ per person and varied though according to how well known Tour Operator, private or sharing package, how many days trip and how many people in your group and the commission is due to people or agency.
Some guide companies will charge as little as 80$ per person for a 2 nights in the off-season for sharing packages up to 12 people in a group.
Important to check they are properly experienced, equipped and provisioned. Ensure your trek price is all-inclusive of any extra charges for transportation, accommodation, provisions, guide – porter fees and the Rinjani National Park entrance fee.
Accommodation
Trekking Mount Rinjani Lombok usually done 2 days or more and always start early in the morning of course you'll need a comfortable bed in Tetebatu or Senaru or Sembalun before start climbing next day. Mostly Tour Agency has been provide and organized everything you need to sleep one night before climb the mountain at the hotel in Tetebatu or Senaru or Sembalun village.
Packing Lists
Recommended you to carry during the Mt. Rinjani trek programme, all Items to be packed in a small backpack no more than 10 kg :
Quick Dry Synthetic Material :
Shirt (can be either short or long sleeve) as the base layer, a good quality fleece jacket/woollen pull-over as the middle later and a thick wind proof jacket as the outer layer. A waterproof and windproof trekking pants is desirable and a pair of woollen gloves, beanie and scarf for additional cold protection.
Trekking Shoes :
Mid or high-cut shoes are preferred over low-cut ones for better ankle grips and to prevent loose soils from getting into the shoes.
Trekking Poles :
Highly recommended for the summit climb as the terrain towards the summit is very steep and consists of very fine and loose volcanic soil that may cause one to slip down easily.
Others :
Water Bottle, Torch or Flashlight, Toiletries, Sun block/lotion, hat/cap, sun glasses, Spray for muscle/balm, Insect repellent, Camera, Mobile phone and Power bank.
Packing list above assuming you are going with a guide and porters carry all camping equipment (Tent, Sleeping bag, sleeping mats and Toilet tent), Cooking gears, waters and foods.
Guide and Porters
Rinjani mountain guides and porters are mostly natives of the three ascent route Mount Rinjani : Senaru and Sembalun that some of them have licensed and a good experienced in guiding trekker to climb the mountain.
Mount Rinjani Trekking Guides and Porters as:
Experience and licensed.
The guides and porters who are experienced and have a licensed to be working on a travel organizer that has the good name and the selling the package is quite expensive and they will be get paid more expensive than the standard fee guides or porters.
Experience but do not have a licensed
Use by the travel organizer who selling the standard package and they will be get paid with standard fee guides 18$/day plus extra summit fee 18$ or porters 16$/day.
New and lack experience
Usually used by the travel organizer who sell the package at a bargain price or cheap sharing package with payroll under the salary standard guides and porters.
In other side some of travel organizer local Tetebatu, Sembalun or Senaru has own guides and porters that certainly has good ability and experience in guiding guests to climb Mount Rinjani and most of them will do the best service as possible that they could do with the hope of getting some tipping from they are guest and good review to their company.
If you want to get a good services and enjoy during climbing Rinjani mountain do not take the sharing package with very low prices offering by not licensed tour agency.
Do you still have a questions about Trekking package Rinjani mountain? Feel free to contact us and we will respond to your query shortly.